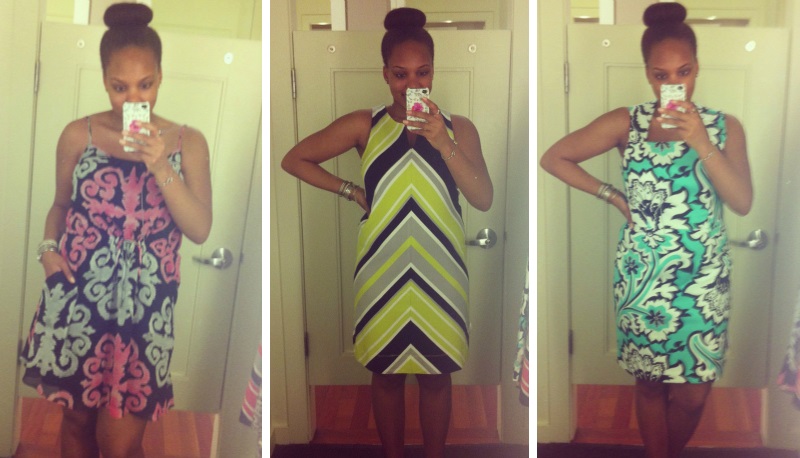 {Medallion Print Dress, Chevron Stripe Dress, Eden Rock Printed Dress}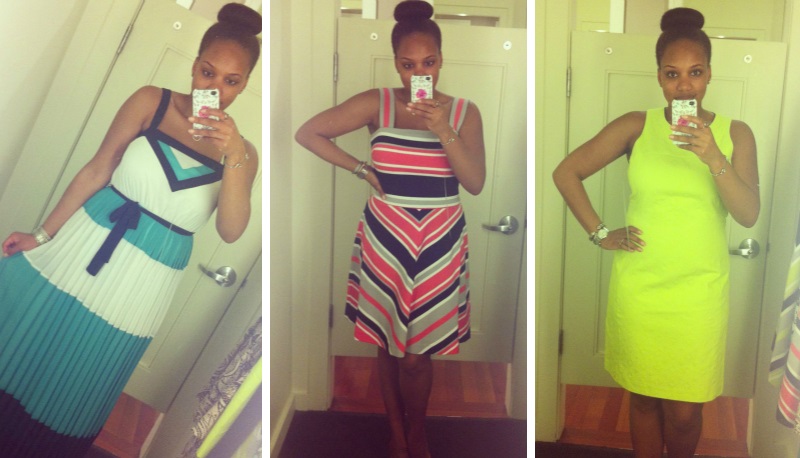 {Colorblock Pleated Patio Dress, Striped Fit and Flare Dress, Sleeveless Jacquard Dress}
Guys, you know how much I love a good designer collaboration, so it's no surprise that I was chomping at the bit for the new Milly x Banana Republic collection to drop.  I swung by Banana on my way home, scooped up a bunch of dresses in my size, and off to the fitting room I went.  I only tried on a few of the dresses, but the entire collection also includes tops, shorts, accessories, and handbags..  Here's my quick review of the items I tried on:
Medallion Print – Light and flowy, this dress is very forgiving (especially in the waist), so you can definitely order your regular size or perhaps 1 size down even.
Chevron Stripe – This was one of my favorites.  The chevron stripes are very flattering, and the cut of the dress worked well with my straight-ish figure. Though I could see it looking a lot different on someone with a small waist and wider hips.
Eden Rock Print – The pattern on this one is beautiful and very Milly-esque.  The cut is form-fitting, but not tight (definitely work-appropriate).  Since I have a short torso, this dress wouldn't work for me unless I had it taken up at the shoulders which was sort of a bummer
Colorblock Patio – This was probably my least favorite.  The pleats started at a weird spot, the fit of the bodice was just sort of meh, and the length on the regular was a little too short for my taste (I like my maxis to skim the top of my toes. They don't carry them in-store, but I would be interested to see how a Tall version would fit on me.
Striped Fit and Flare – This was another favorite.  It also comes in solid navy, but I've been really into stripes lately.  I went up a size since it was snug in the bust area.  And even though I'm 5'7″, I found the petite version to fit much better because of its shorter shoulder straps (did I mention that I have a short torso?), and there was only about a 1-inch difference in length.
Sleeveless Jacquard – This dress was pretty dope.  The color is definitely not for the faint of heart, but the classic shape made all the difference.  This one was also form-fitting (but again, not tight), and would be great for brightening things up at the office.
Overall, I was very pleased with the fit, quality and design of this collection.  If you're a fan of Milly and would love to get it at a cheaper price point, you really can't go wrong.  I hope Banana continues doing these types of collaborations (silently rooting for a DVF partnership!).