This shop has been compensated by Collective Bias, Inc. and its advertiser. All opinions are mine alone. #NauticaforDad #CollectiveBias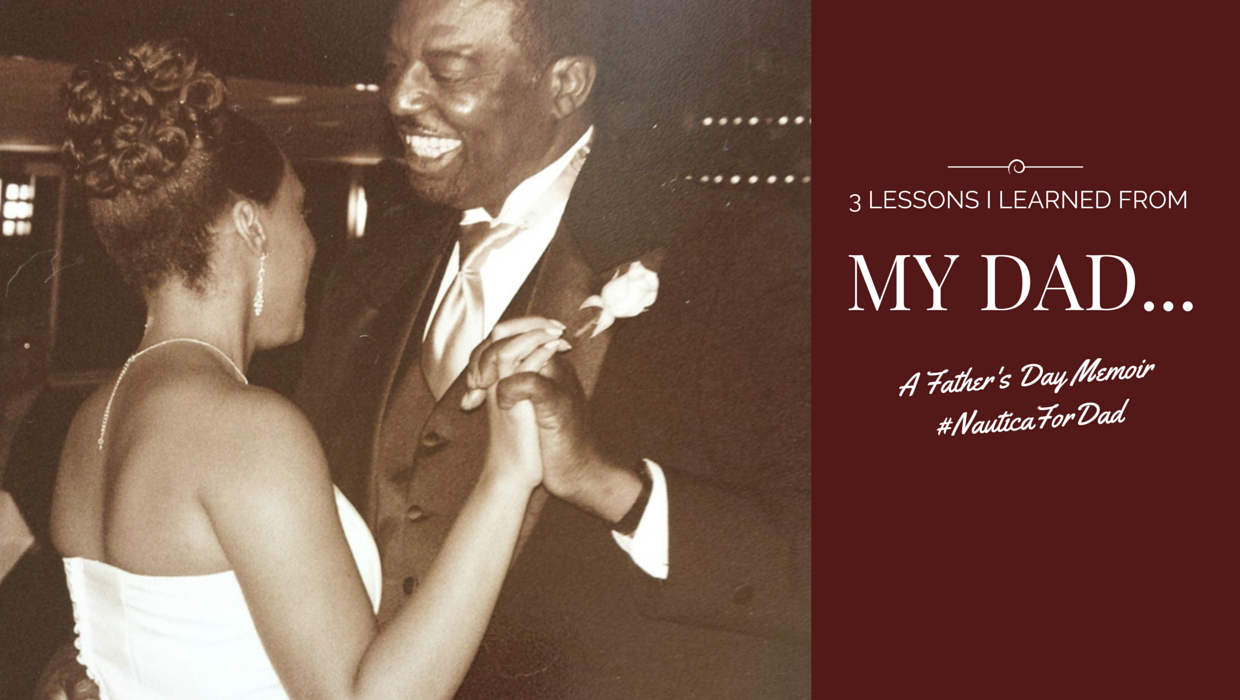 Even though my parents separated when I was very young and I grew up living with my mom, my Dad and I have always had a close relationship. I can honestly say that he's been one of my biggest fans and supporters throughout my entire life. Our personalities are alike in so many ways, and I'm really coming to appreciate the advice and words of encouragement he's given me over the years.
I'm usually not much for sappy sentiments, but with Father's Day approaching this weekend, I wanted to share with you all some of my favorite pearls of wisdom I've received from dear old dad…
Don't give a damn what other people think about you. My dad has never been on to mince words (a trait I think we all inherited from my grandmother), and one of the most valuable pieces of advice he's given me over the years has been to march to the beat of my own dream regardless of what other people think. In his eyes, as long as you're being true to yourself and not hurting anyone else in the process you should always live and enjoy life in a way that makes you happy.
Always keep a positive outlook. Life isn't always peaches and cream, but sometimes you just have to pick your chin up and do the best you can. I remember calling my dad nearly in tears after moving into my first apartment after graduation and being met with a serious roach infestation (word to the wise – NEVER pick up furniture off the street… it's probably there for a reason). His exact words to me were "Well… at least you're in New York City, baby!"
Dress for success and cook to impress. Ironically, my love for cooking and dressing well came from a different parent than you'd typically expect. My mom was always a tomboy growing up and had little interest in fashion. On the other hand, my Dad and uncles always liked to look "sharp", and it's a quality that I'm glad was passed down to me. My Dad is also a whiz in the kitchen and can bake and barbeque like nobody's business.
I'm a notorious last-minute shopper, but this year I've come out ahead. For Father's Day, I'm treating my dad to a Nautica Voyage gift set that I picked up at Macy's in Herald Square earlier this week.
If you're still on the hunt for the perfect gift for father figure in your life, then
Nautica Voyage
could be the perfect choice. It has a crisp, light, woodsy scent that's perfect for dads of all ages. The gift set shown above is available at Macy's for just $65.00.
But wait… there's more!
Nautica is graciously offering to help one lucky reader celebrate the dad in their life with a an all-expense-paid cruise! The Grand prize is a $4000 Cruise Vacation package, and there will also be 5 second place winners that will receive a Nautica Voyage gift set. See entry details below for your chance to win.
Good luck, and have a Happy Father's Day! Click here to see other #NauticaforDad moments.