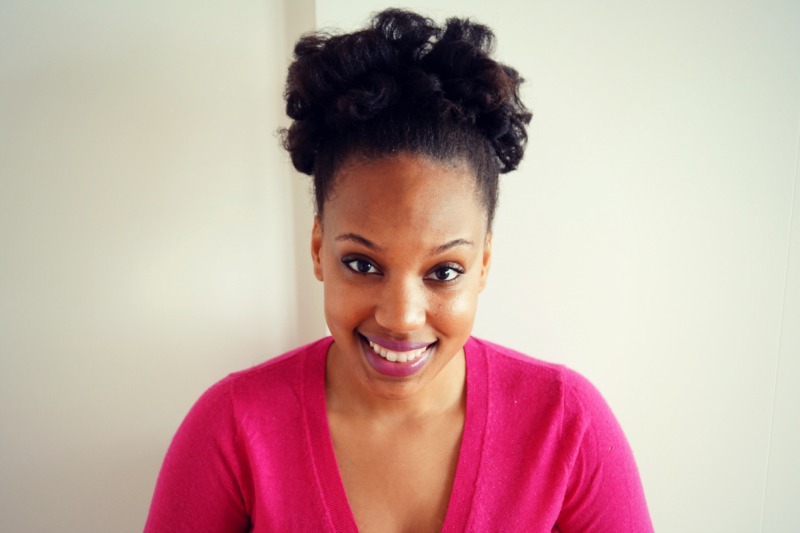 Aloha!
I've been experimenting with different hair products and styling techniques lately, and I wanted to share my recent results using the Hask Argan Oil Smoothing Treatment along with my trusty Caruso Steam Rollers.  Below is a step-by-step tutorial of how I achieved this style.  Enjoy!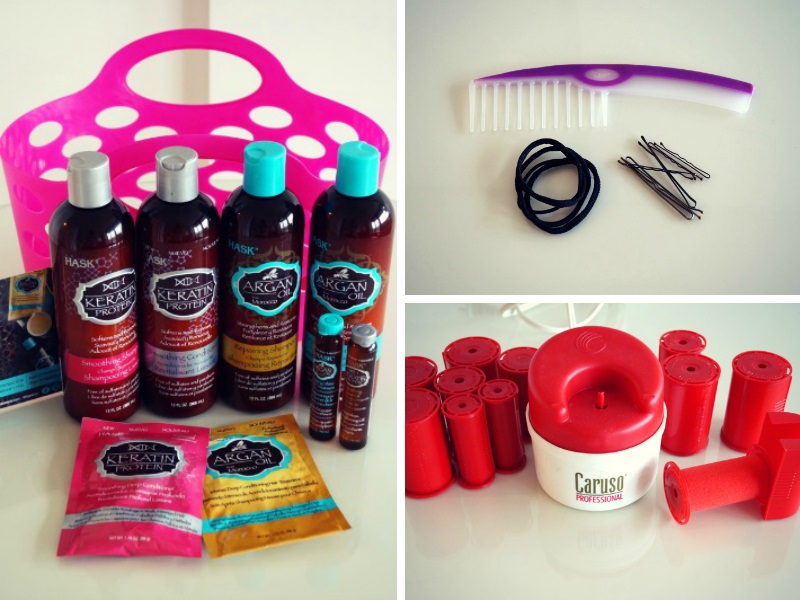 I'm a recovering hair product junkie, but I just couldn't resist when the lovely folks at Hask offered to send me a few products to review.  Everything came in this nifty pink shower caddy that will definitely come in handy for future use.  I received two complete 4-piece hair treatment systems:
Argan Oil Repairing Shampoo & Conditioner, Intense Deep Conditioner, and Shine Oil – good for repairing, strengthening and moisturizing hair, all while taming frizz and adding shine.
Keratin Protein Smoothing Shampoo & Conditioner, Deep Conditioner, and Shine Oil – good for reviving, restoring, calming and strengthening parched, frizzy locks—wiping out the effects of heat, humidity and over-styling and helping your hair look and feel its best.
Since I've heard about the great benefits of Argan oil, and because winter has left my hair unbelievably dry, I decided to go with the Argan Oil hair treatment for this style. I plan to try the Keratin Protein treatment the next time I straighten my locks, and I'll update you guys on how that goes.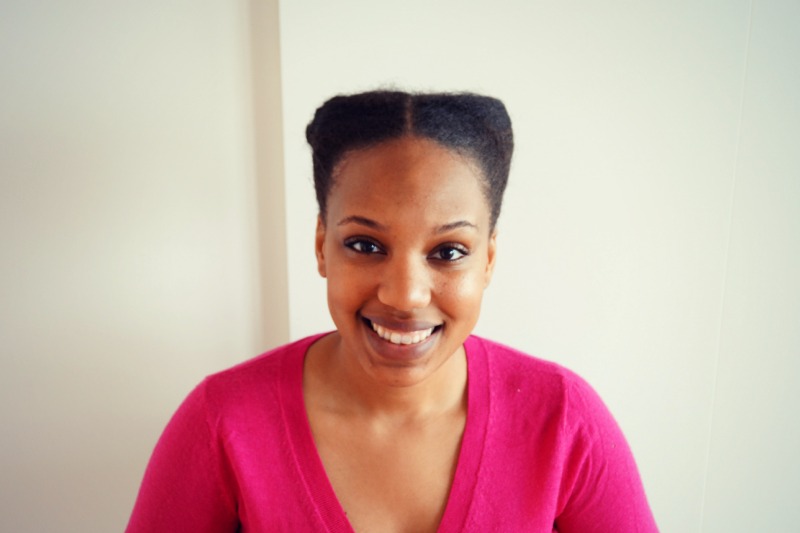 This is my hair after washing, deep conditioning, applying the shine oil and letting it air dry overnight with my new super-awesome hair stretching technique that I promise to share with all my fellow naturalistas in another post.  If you're curious as to how my hair normally looks after air-drying with no products or manipulation, you can check out this post.
The first thing I'd like to point out is that all of the Hask products I received are free of  sulfates, parabens, alcohols, and artificial colors. I'm somewhat picky about what I put in my hair, so this scored major points with me.  Even though the shampoo doesn't contain sulfates, it still produced lots of lather (and smelled a little like fruit punch).  My hair and scalp definitely felt clean afterwards, but not stripped. I left the deep conditioner in for ~10 minutes while I showered and completed the rest of my bathing and exfoliating rituals. I like to detangle my hair using just my fingers while it's full of conditioner.  The deep conditioner provided a decent amount of slip (I'd give it a 7 on a scale of 1-10), and I was able to work my fingers through my strands without much trouble.  After rinsing out the conditioner, I applied a generous amount of Shine Oil and made sure to coat my strands while playing close attention to the ends.
By the time I woke up the next morning, my hair felt pretty good.  Not a drastic difference, but definitely less parched than it was previously.  I think applying a leave-in conditioner along with the Shine Oil would have helped lock in some additional moisture. But for this review, I wanted to stick to just using the Hask products I had on-hand.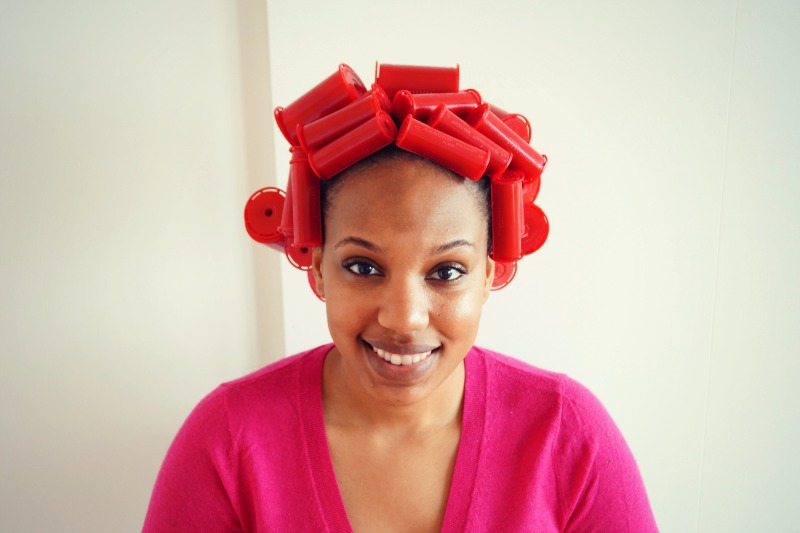 Now for the real experiment: using my Caruso Molecular Steam Hairsetter on my air-dried naturally kinky hair.  To be honest, I wasn't sure what to expect.  I've had these steam rollers for years, and I love them because they're gentle on the hair and super quick (i.e., I can set my hair in the morning and have a head full of bouncy curls in under 10 minutes).  But in the past I've only ever used them on relaxed tresses or natural hair that been blow-dried and/or lightly flat-ironed.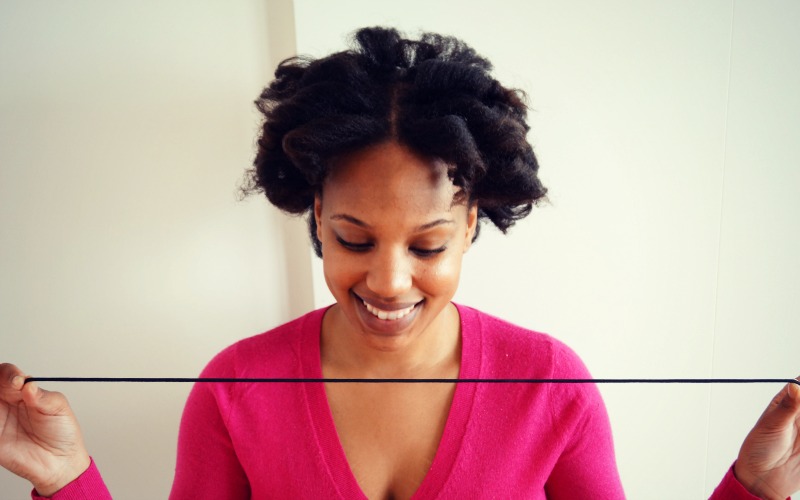 Here's how the end result came out.  I'd like to note that I added a tad more of the Shine Oil to my hair before setting it. Using the Caruso steam rollers on air-dried hair definitely didn't leave my hair as flowy and luscious as it does when I use a bit of heat beforehand ( as seen here and here), but I was actually pretty pleased with the results considering how little time it took and how gentle it was on my hair.  I also think the Hask Argan Oil treatment aided in taming my strands and cutting down on frizz.
At this stage, I felt like my hair was perfectly primed for an elegant curly updo.  So I grabbed one of my favorite hair tools: a Goodie Ouchless Elastic Headwrap.  I like to cut them open at the seams and prefer them to regular hair ties because my hair is quite thick, and these allow me to better control the tension on my head.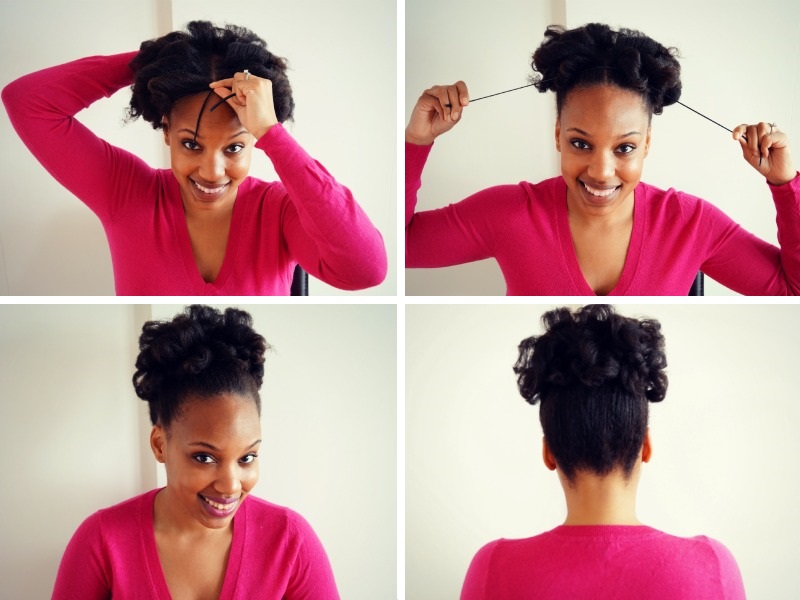 Above is how I transformed my grandma curls into a chic updo in about 30 seconds flat.  I basically lay the outstretched headband around the back of my head, loop it around front, and gradually tighten it like a drawstring until I get the look I want.  After that, I tie the ends into a tiny bow in the back of my head, hide the ends under my curls, and secure it with a bobby pin or two.  If your hair is a lot finer than mine, you can also achieve the same result with these bungee bands.
This is pretty much the same method I use with my tried-and-true puff, but I love how the look is transformed with smooth, bouncy curls.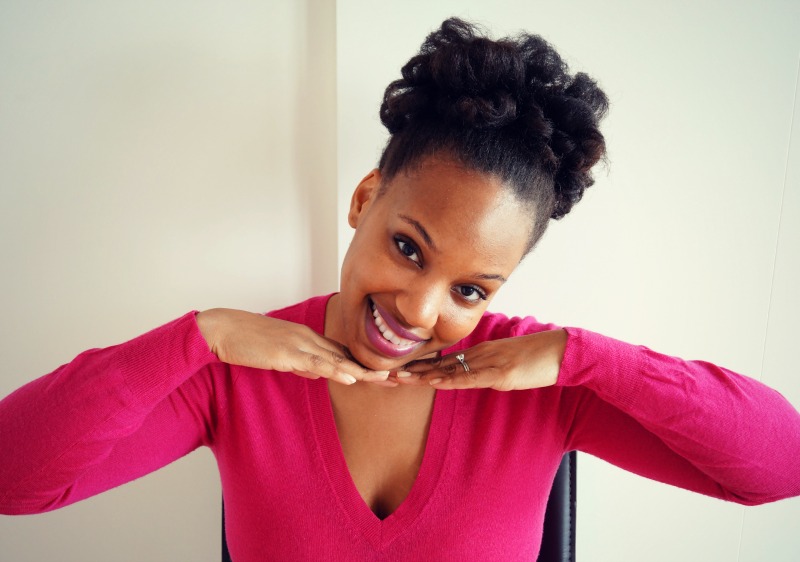 And there you have it, guys!  A chic and elegant updo that's gentle on the strands and only takes ~15 minutes to accomplish (8-10 minutes to install the rollers, 3 minutes to let them cool and set the curl, 1 minute to remove, and 1 minute to style).  I'll make this style last all week by setting it with satin-covered foam rollers at night.  But even if I'm too lazy to do that, I can always get my curls back in the morning with my Caruso steam rollers and a few spare minutes.
***Edited on 3/19: Happy to report that my curls have lasted 3 whole days WITHOUT using the satin rollers at night.  I pretty much just fluff and go in the morning. Woohoo!***
This post is powered by BrandBackers.  Thanks so much to the team for hooking me up with these wonderful Hask product samples!