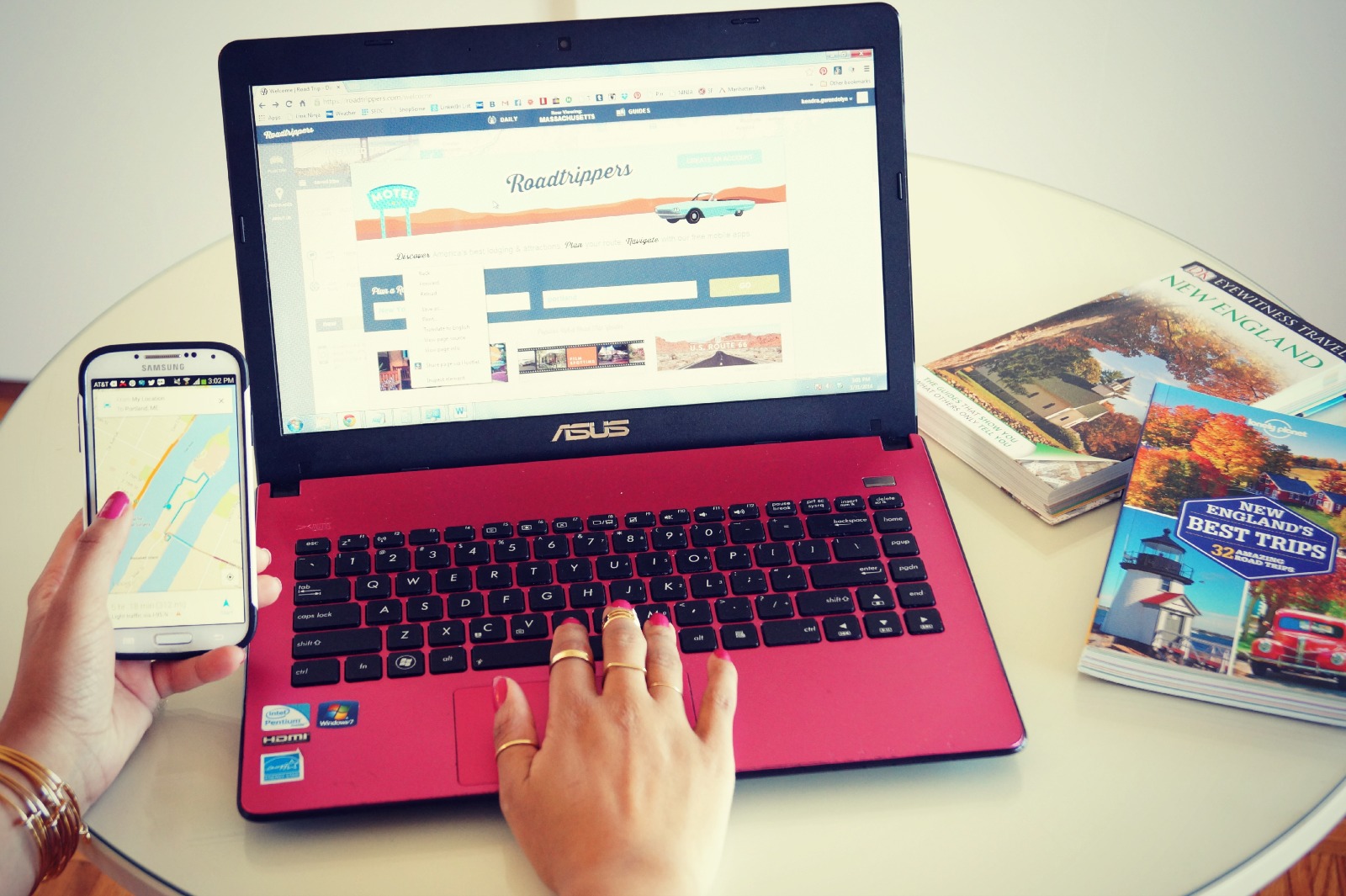 True Story: I graduated many moons ago, but I still go on spring break every single year! It's a tradition my husband and I plan to keep up as long as we can. In years past, we've gone to far off locales like Costa Rica, Spain, the Caribbean, and France. But this year we're sticking a little closer to home and taking a road trip up the New England coast. I couldn't be more excited, and so I thought now would be the perfect time to share with you guys how to pack for a road trip.
Being the true Manhattanites we are, we don't own a car and have never done a road trip together before. Since my driving skills are pretty lackluster, Eric will be spending most of the time behind the wheel with me as his official navigator – a designation that I take very seriously. Between my guidebooks, GPS, Google Maps, and the Roadtrippers app, I think I've got all our bases covered.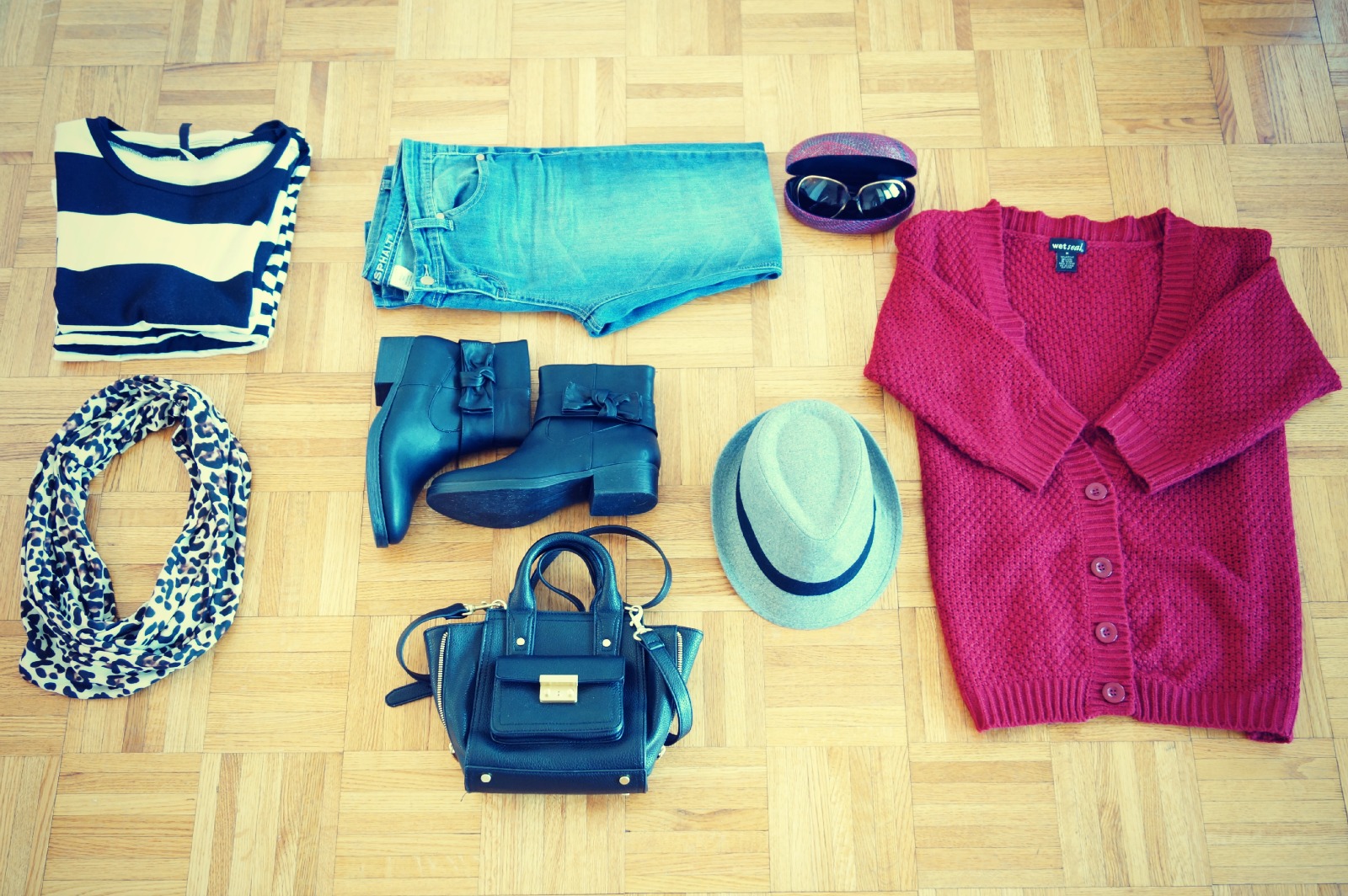 To help prep for my journey, the lovely folks at Wet Seal were gracious enough to send over a few goodies to help me on my way. For me, how to pack for a road trip is all about comfortable, laid-back pieces that travel well.  Here's a list of the key items that I'll build my wardrobe around:
Soft Cotton Tees – Whether, they're plain, striped, or have cute little french phrases scrawled across the front, I'll be tossing a stack of these in my bag for sure.
Cozy Scarf – I always bring a scarf or two along whenever I travel, and I'm sure this leopard infinity scarf will serve me well.  In addition to keeping me warm, it'll also add a little panache to my jeans and t-shirt combos.
Stretchy Jeans – Since half the fun of a road trip is stopping in a bunch of greasy spoons and local dives along the way, clothes with a little forgiveness are a must.  I'm hoping these second-skin jeggings will do the trick.
Waterproof Boots – I'm almost positive we'll encounter a few sprinkles along the way. But rather than lug my clunky rain boots along with me, I'm opting for these vegan leather booties with a cute side bow. I'm keen on the fact that I can still wear them even if it doesn't rain.
Crossbody Bag – While I'm definitely a girl who likes her oversized handbags, I prefer to be free and  unencumbered when I'm exploring.  My trusty Phillip Lim x Target satchel does the trick when I'm out and about.
Dark Sunglasses – Gotta protect those peeps from sun glare while I'm on the road!
Trusty Hat – During my last two trips to Europe, I discovered what a lifesaver a good hat can be when you're traveling.  Between unpredictable weather and limited access to my hair arsenal, a bad hair day is pretty much inevitable when I'm out of town.  My new wool fedora will be just the thing to keep things in check.
Oversized Sweater – There's nothing cozier than layering up in a nice, warm, oversized sweater.  I can toss this slouchy cardigan over a dress or a t-shirt and jeans and be ready for action.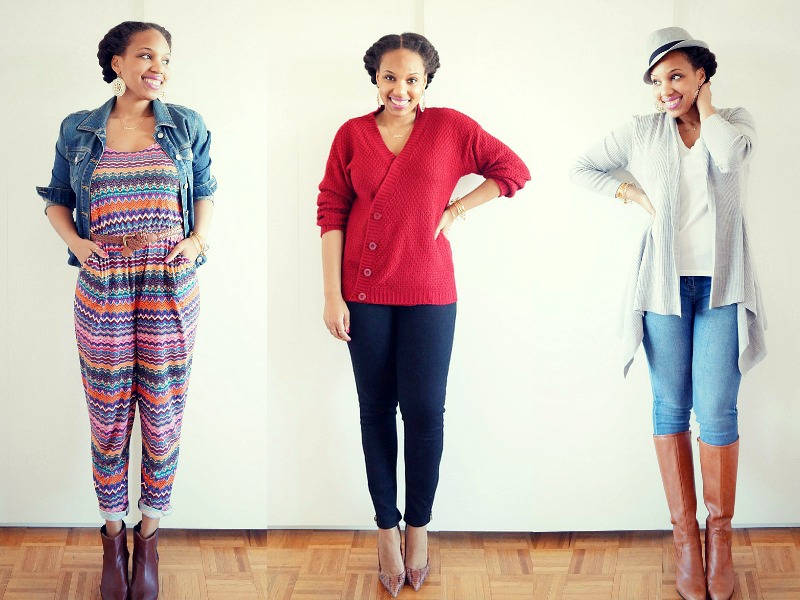 Here's a sampling of a few of the looks I'll be sporting on my journey.
Outfit #1: This look is probably my favorite.  Because let's face it, when you're stuck in the car for hours at a time what you really want to wear is a pair of pajamas.  This flame-stitch knit jumpsuit is the next best thing.
Outfit #2: I absolutely love pieces that can do double-duty. So as I was playing around with this oversized boyfriend sweater, I realized that I could create a more sophisticated and tailored look by ditching the buttonholes and using a few strategically placed safety pins.
Outfit #3: A little bit country and a little bit city-chic… you really can't go wrong jeans, a plain white tee, and nice leather boots.  The fedora and flyaway cardigan help finish off the look.
We're leaving in a little less than two weeks, and I can't wait to share pics of our adventure with you guys.  In the mean time, if you know of any cool places we should stop by along the way, feel free to drop me a line in the comments (food suggestions are particularly welcome)!
Full Disclosure: This post is sponsored in part by Wet Seal.  All products were chosen by me, and all views and opinions expressed are my own.