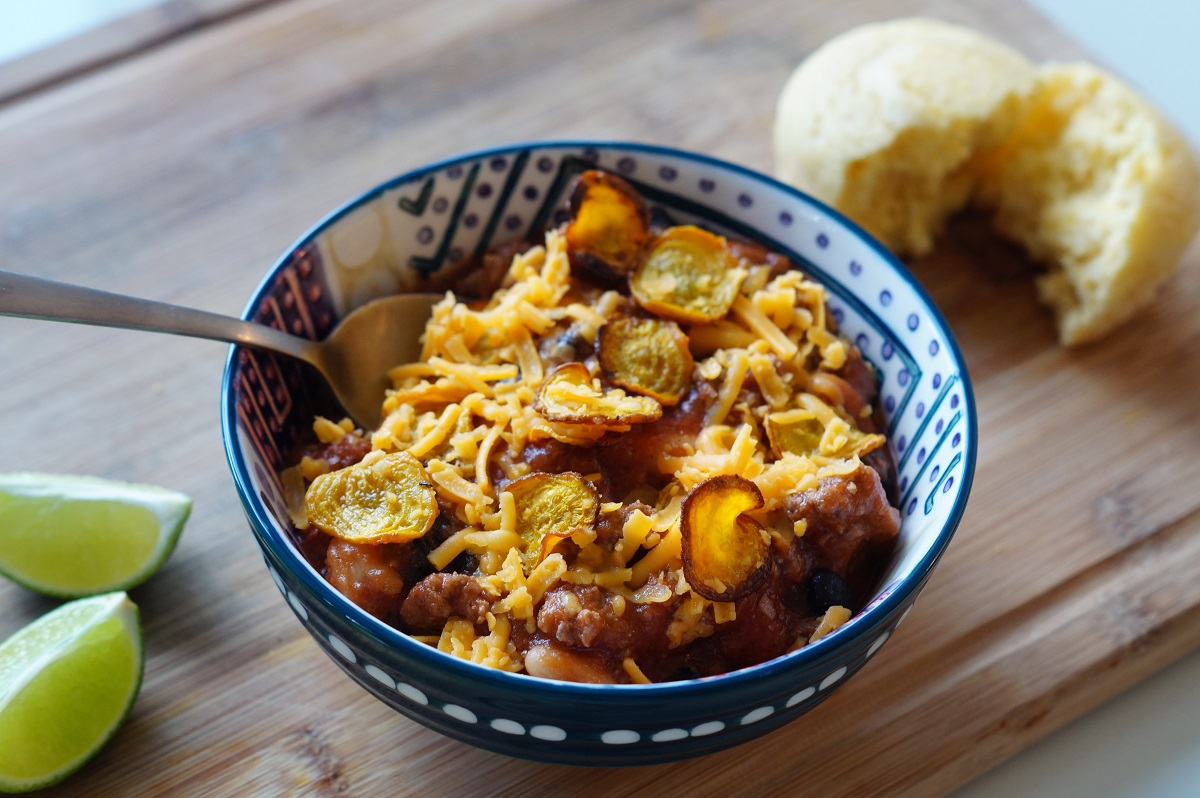 During last week's snowstorm, Eric and I were tucked safely inside our apartment with a full Netflix queue and plenty of snacks and comfort food to keep us snug, including big bowls of warm chili. I'm always testing out different chili recipes, and I love this version because it comes together so quickly. The roasted beets also give a nice texture and unexpected flavor dimension.
INGREDIENTS
6 ounces yellow beets (or red ones… if you dare!)
2 cloves garlic
1 cup black beans
1 cup kidney beans
1 lime
1 lb ground beef
1 teaspoon chili powder
1 teaspoon ground cumin
1 teaspoon dried oregano
2 cans crushed tomatoes
1/2 cup shredded cheddar cheese
DIRECTIONS
Prepare Ingredients
Preheat oven to 400°F. Peel beets, halve, and slice as thinly as possible. Mince garlic. Drain black beans and kidney beans, then rinse both. Quarter lime. Pat beef dry with paper towel.
Simmer Chili
While cornbread bakes, heat 1 tablespoon olive oil in a medium pot over medium heat. When oil is shimmering, add spice mix, garlic, beef, and ½ teaspoon kosher salt and cook, breaking up with the back of a spoon, until meat loses its color, 3-4 minutes. Stir in crushed tomatoes. Increase heat to high and bring to a boil, then reduce heat to medium and simmer until thickened, 3-4 minutes.
Bake Beet Chips
Add beets to baking sheet from cornbread and toss with 1 tablespoon olive oil and ¼ teaspoon kosher salt. Arrange in a single layer, transfer to
oven, and bake until crisp, about 15 minutes.
Thicken Chili
Stir in black beans and kidney beans. Cover pot and cook until chili is thickened and flavors are melded, about 5 minutes more. Remove pot from heat. Taste and add salt and pepper as needed.
Enjoy!
Garnish chili with all the things: Cheddar, beet chips, and lime wedges.
Bon Appétit!