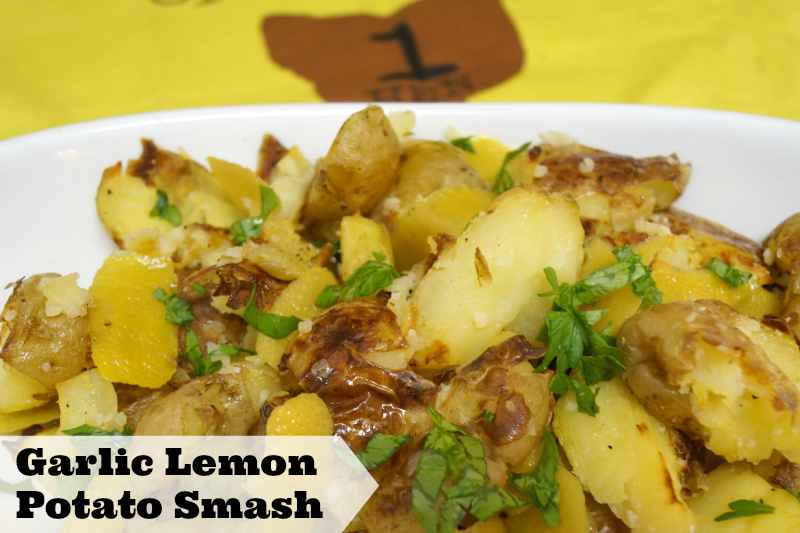 One of my goals for 2014 is to cook more, and so far I've managed to stay the course.  But I've found it's quite easy to get stuck in a side dish rut.  Potatoes are my absolute favorite food group, so I decided to branch out from my usual mashed or oven fried variety.  The lemon, garlic (and parmesan!) give these potatoes a delicious flavor. I've served these to guests twice now, and they're always a smash (pun intended)!
Try them out for yourself, and let me know what you think.
Ingredients
2 pounds baby yukon gold potatoes
3 cups chicken stock
Zest of 1

lemon

cut into long strips
2 cloves garlic
Extra virgin olive oil
1/4 cup of grated parmesan cheese
2 tablespoons chopped

flat-leaf parsley

salt and 

pepper

to taste
Directions
Preheat oven to 400F.
Place potatoes in a medium pot with chicken stock, lemon zest and garlic. Bring to a boil, cover and cook for 8 minutes.
Drain potatoes, and set the lemon zest aside.
Resist the temptation to slurp down the delicious lemon and garlic infused broth… or not.
Line a cookie sheet with aluminum foil and coat generously with olive oil Oil. Use the base of a small saucepan or a large cup to gently flatten each potato. This step goes a lot more smoothly the softer your potatoes are at this point.
Arrange the smashed potatoes on the oven tray with the reserved lemon zest and drizzle with olive oil. Roast for ~40 minutes, or until the potatoes are crispy and golden brown.
Add salt and pepper to taste, and sprinkle with parmesan cheese and parsley before serving.
I've served this dish with a simple roast chicken and my to-die-for chicken parm meatballs, but you could really pair them with any main dish… or just eat a big 'ol plate of potatoes on their own.
Bon Appétit!