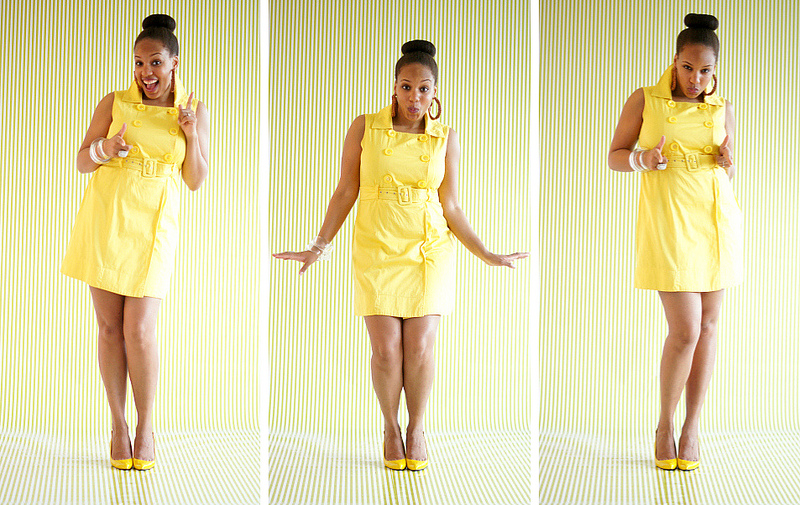 So, tell me "Who is this chick?"
My name is Kendra, and I am simply a woman who loves fashion.  I'm known to spend my Saturdays rearranging my shoe collection for fun or trying on different outfits in my closet to create new looks.  Like any frugal fashionista, I appreciate a good bargain. But more importantly, I look for quality and longevity in the items I buy. I have absolutely no background in fashion (unless living in NYC for the past 11 years counts). I started Closet Confections as a way to catalog my daily style choices, and share my thoughts and inspirations about fashion with the rest of the world.
While I don't think fashion has any rules, I do have a few guidelines that influence my personal style.  Here they are for those who care to know:
If I wouldn't want to be photographed in it, then I probably shouldn't be wearing it. Not saying that I have to look like a glamour goddess everytime I step out of the house, but everything should at a minimum be clean, fit well, and most importantly, make me feel confident.
High heels are FABULOUS, but not at the expense of damaging my tootsies. Whenever my feet are feeling a little worse for the wear, I immediately treat myself to a pedicure and give my toes a break by rocking super cute flats or low-heeled boots.
Just like a house needs a sturdy foundation, any great outfit begins with the proper undergarments. With recent advances in underwear technology, things like VPL, falling bra straps, whale tail, muffin top syndrome, and boob spillage should be a thing of the past. And there is absolutely nothing wrong with a good old-fashioned slip.
True style has nothing to do with money. While I do occasionally like to splurge, many of my favorite pieces cost me less than $50.
Access to a good tailor and shoe cobbler are priceless! It's amazing how a shorter hemline can instantly update a vintage dress, or how a new sole and a quick polish can breathe life into a pair of old boots.