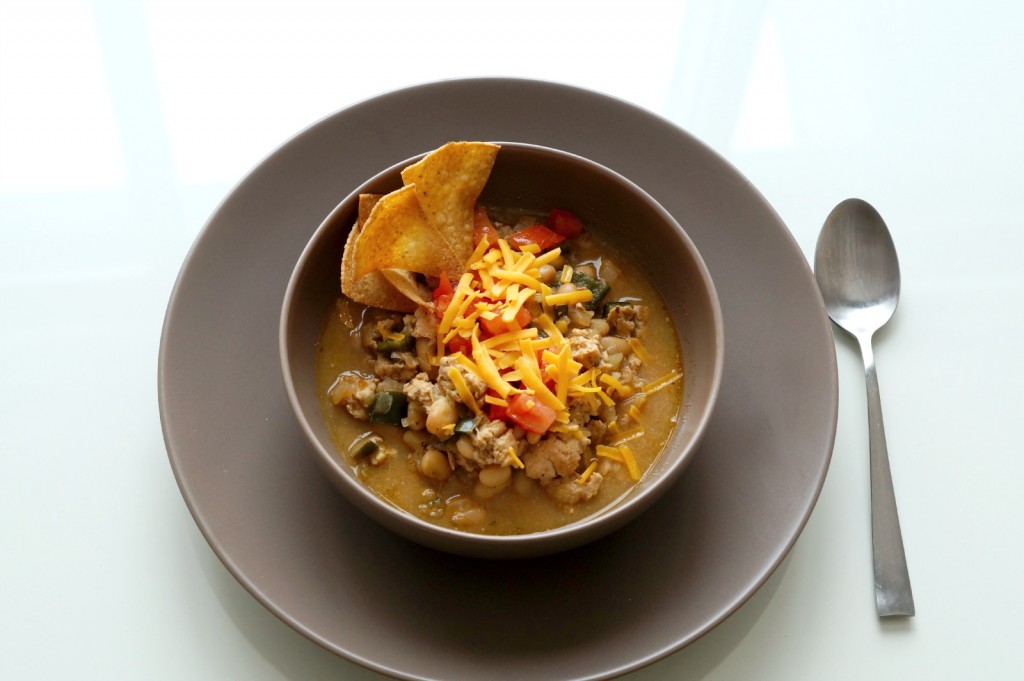 Before I got married, I used to live alone in a teeny, tiny apartment on the Upper East side, and my bathroom was literally inside of the kitchen. Needless to say, my crockpot was my best friend. I'd set it up on my drop-leaf table (in the living room!) before leaving for work, and chili was one one of my weekly go to recipes. Today I'm excited to share with you guys a more grown-up version of one of my favorite bachelorette meals… no crockpot required!
Ingredients
1 poblano chile
1 tomato
1 yellow onion
1 clove garlic
1 cup white beans
1/2 cup canned corn corn
2 corn tortillas
12 ounces ground chicken
1 tsp ground cumin
1 tsp dried oregano
2 tsp chili powder
1.5 cups chicken stock
½ cup milk
¼ cup shredded Cheddar cheese
1. Prepare Ingredients
Preheat oven to 425°F. Rinse poblano, halve lengthwise, and discard seeds. Cut into ½-inch pieces. Rinse tomato and cut into ½-inch dice. Peel onion and mince. Mince garlic. Drain and rinse white beans and corn. Cut tortillas into 8 wedges.
2. Brown Chicken
Pat chicken dry with paper towel. Heat 1 tablespoon olive oil in a medium pot over medium heat. When oil is shimmering, add chicken and season with salt and pepper. Cook until browned, 5-7 minutes, breaking up with a wooden spoon.
3. Cook Vegetables
Add poblano, onion, and garlic to pot with chicken . Cook until onion is soft and translucent, about 5 minutes. Add spices, white beans and corn. Stir to combine. Cook until fragrant, about 1 minute more.
4. Simmer Chili
Add chicken stock to pot with chicken and vegetables. Stir to combine. Increase heat to high and bring to a boil, then reduce heat to medium and simmer until chili is thickened, about 12 minutes.
5. Bake Tortilla Chips
While chili simmers, on a baking sheet, toss tortillas with 1 tablespoon olive oil. Arrange in a single layer and season with salt. Bake until golden and crisp, about 6 minutes.
6. Plate Chili
Add milk to chili, stir to combine, and increase heat to medium high. Simmer until thickened further and warmed through, 4-5 minutes. Taste and add salt and pepper as needed. Divide chili evenly between 2 bowls and garnish with shredded Cheddar, tomato, and tortilla chips. Serve.