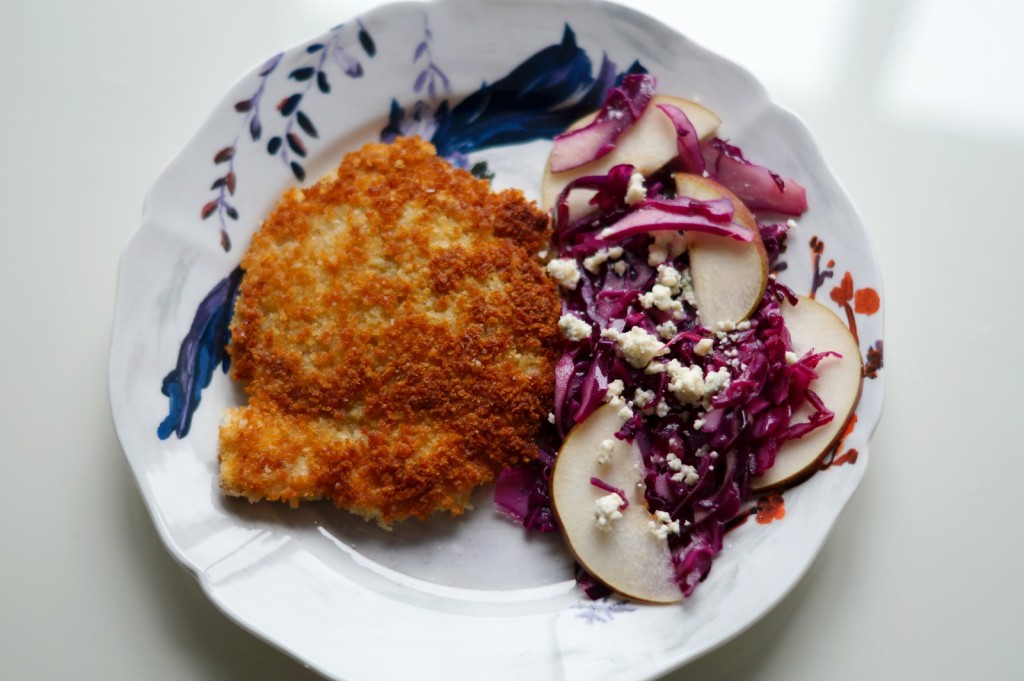 I absolutely LOVE to cook, but… I don't really enjoy eating leftovers. Since there are only two of us in our household, finding recipes that make small enough portions WITHOUT wasting a ton of ingredients can be a doozy.  Enter my new obsession: Plated.com.  You can check out their site (and get two free plates!) here, but basically they offer a weekly food delivery service that ships a box of fresh, perfectly portioned ingredients and step-by-step recipe cards on how to prepare each meal. I hate wasting food, and grocery shopping in NYC without a car can be a pain (not to mention expensive!), so this service has been a lifesaver for me.  In about the same time it takes me to wait for delivery, I can have a hot, delicious meal on the table that I prepped with my own two hands.
I've gotten about 3 deliveries so far and haven't been disappointed yet. Over the next few weeks, I'll be sharing my recipe adaptations with you all… starting with this delicious chicken schnitzel with red cabbage! The cabbage was actually meant to be served as a cold salad. But with the temps starting to plunge, I wanted something warm and comforting. Sautéing the cabbage a helped release some of its sugary juices and gave just the right finishing touch to this meal. Speaking of finishing touches, I think I'll be adding dijon mustard to my chicken cutlets from here on out.  It added such a great flavor, and I think a touch of lemon zest mixed in with the bread crumbs would also be divine for next time.
But enough talk, and on with the recipe!
INGREDIENTS
2 boneless, skinless chicken breasts
1 egg
2 tbs dijon mustard
2 cups panko bread crumbs
1/2 cup flour
5 tbs olive oil
2 tbs apple cider vinegar
1 tsp agave nectar
3 cups red cabbage, shredded
1 pear, cored and sliced
2 oz gorgonzola cheese, crumbled
salt & pepper, to taste
DIRECTIONS
Rinse chicken, and pat dry before pounding into 1/4-inch thick cutlets and seasoning with salt and pepper on both sides. I recently lost my meat mallet, so I placed my chicken into a plastic freezer bag and just used the side of a heavy pan.
For the chicken coating, whisk together egg and dijon mustard in a small bowl. Spread panko bread crumbs and flour out over two separate plates, and season each with salt and pepper.
Heat 2 tbs of olive oil in a large skillet over medium-high heat before preparing your  chicken assembly line: start by coating each chicken breast with flour, then dipping in egg, and lastly coating with the panko bread crumbs.  Be sure to get a good egg coating and really pat those bread crumbs in to ensure they stick.
Drop each cutlet into the hot skillet, and cook 3-4 minutes on each side to get a nice, golden crust and cook the cutlets all the way through.
Heat 1 tbs of olive oil in a second skillet, and sau

té

 the red cabbage until just softened, about 2-3 minutes.
While the chicken and cabbage are are cooking, you can start preparing your salad dressing. Whisk together remaining olive oil, apple cider vinegar and agave nectar in a large bowl. Season with salt and pepper to taste. Remove cabbage from heat, and drain all the liquid before tossing with the dressing and sliced pear.
Plate chicken and crumble the gorgonzola over the cabbage before serving.
Bon appetite!